Clinical
Using the Managing Myopia Guidelines Infographics
Posted on November 22nd 2023 by Kate Gifford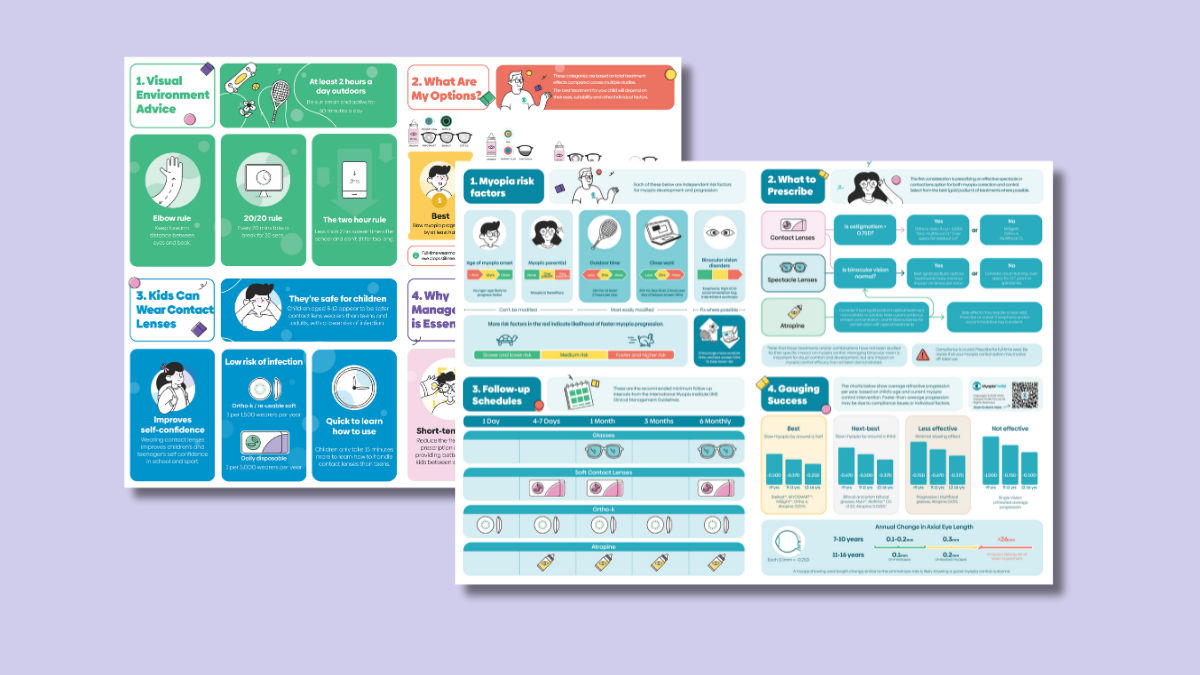 In this article:
Myopia Profile has designed the Managing Myopia Guidelines Infographics to support eye care practitioners in prescribing, communication and ongoing management of young patients with myopia. First launched in late 2019 and with thousands of downloads since, they have been freshly updated, are available in several language translations, and are entirely free to access. Learn about how you can put these appealing and effective resources into action in your practice.
---
Myopia Profile's popular and entirely free Managing Myopia Guidelines Infographics are designed to support clinical communication and decision making in myopia management. These engaging infographics summarize the evidence base for each step of the myopia management journey, and aids the decision-making process when making personalized recommendations for your young patients with myopia. It is comprised of two four-panel components or sides: one being the practitioner chairside reference, and the other being the patient-facing infographic to guide you through the clinical communication process. They are available to download and print in several formats and numerous language translations.
We developed the Infographics because using pictures in health communications has been shown to improve patient attention, recall, comprehension of information and adherence to treatment.1 Better patient education means better patient outcomes!
The two components of the Infographic are signalled by their colour schemes. In the image below you can see both components or sides (if you print it double-sided) in the background, as well as options to print or display each panel separately in the foreground.
The mostly blue infographic (on the left) is a chairside reference guide for eye care professionals which guides you through: (1) Myopia risk factors, (2) What to prescribe, (3) Follow-up schedules and (4) Gauging success

The multi-colored infographic (on the right) is designed to help you communicate with parents and patients on the following topics: (1) Visual environment advice, (2) What are my options? (3) Kids can wear contact lenses and (4) Why myopia management is essential.

There is also a take-home parent brochure which can be provided after your discussion (more on that below).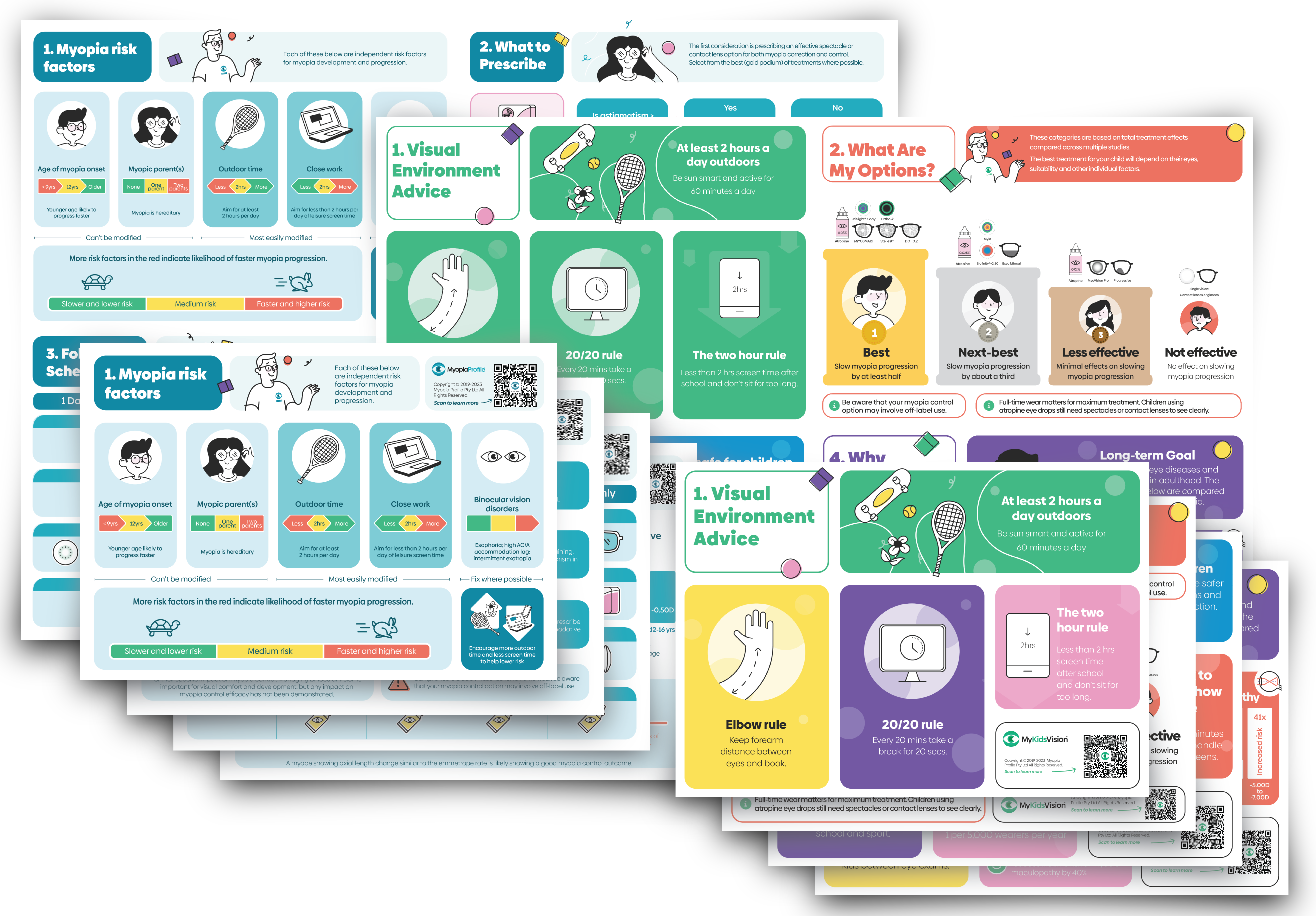 Managing Myopia in Practice: practitioner reference
The eye care practitioner's infographic component, coloured mostly blue, guides you through Myopia Management in Practice. This side summarizes the various considerations in initiating or evaluating their myopia management strategy. We have written an article to explore each of the following panel topics, including the scientific evidence and clinical translation. Click on each of the links to learn more.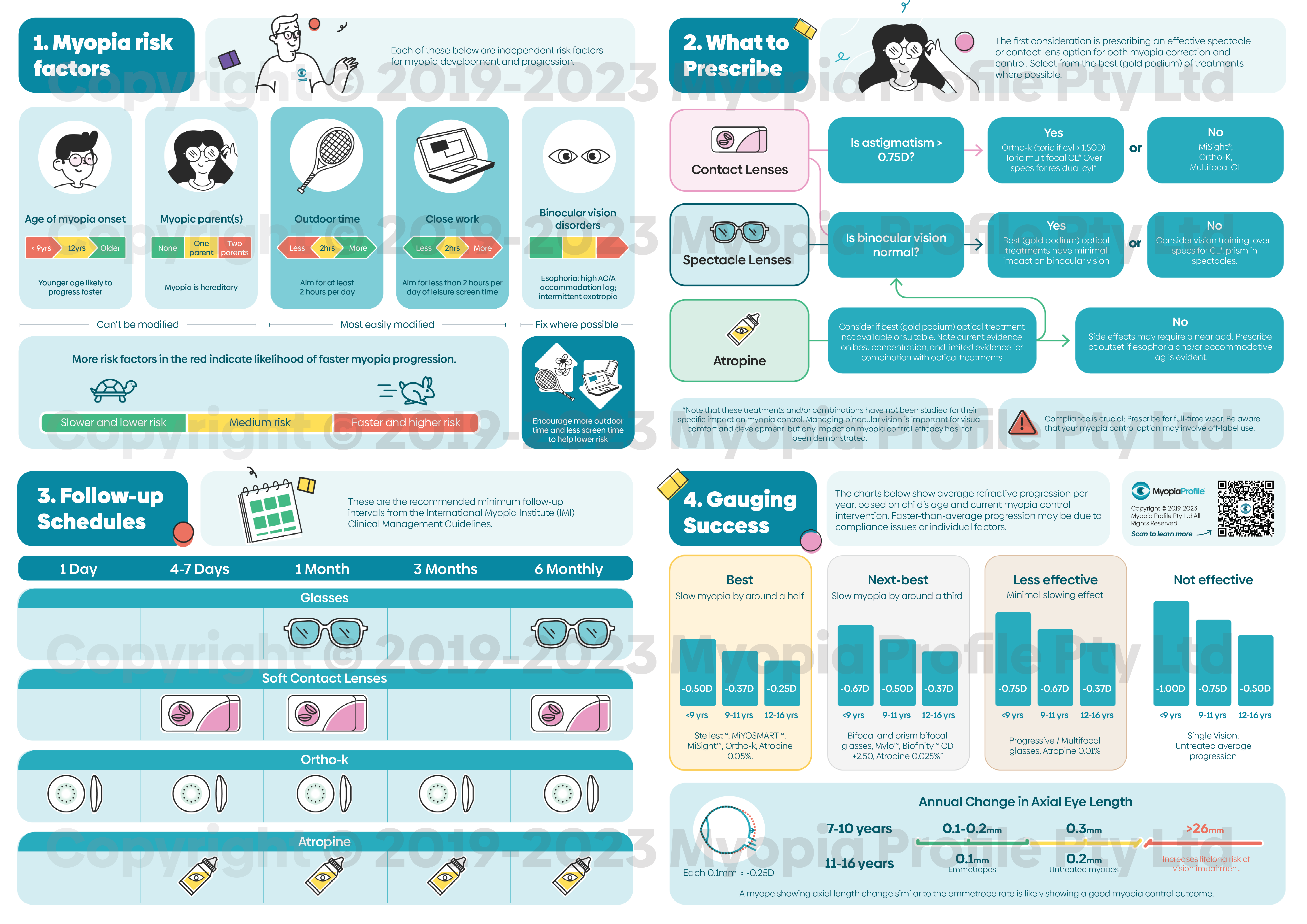 Use this side of the infographic as your own best-practice clinical care reference. Review myopia risk factors for your patient, consider prescribing choices, set follow up schedules and use the final panel to determine if your myopia management strategy is working as well as expected. You may choose to show these infographics to parents and patients, primarily to describe risk factors (panel 1) and/or when discussing outcomes in long-term myopia management (panel 4).
Protecting Children from Myopia: parent-patient communication
The multi-coloured side of the infographic is designed to support you through the clinical communication process with patients and their parents or carers. This side steps through the overview of myopia management from visual environment advice - necessary for all myopes as well as children at risk of myopia - to discussing treatment options, reassuring parents and patients about contact lens wear in kids, and then finishing with why myopia management is essential.
The theme of each panel is matched with an article on MyKidsVision.org, to which you can direct parents for further learning. Here are the following links.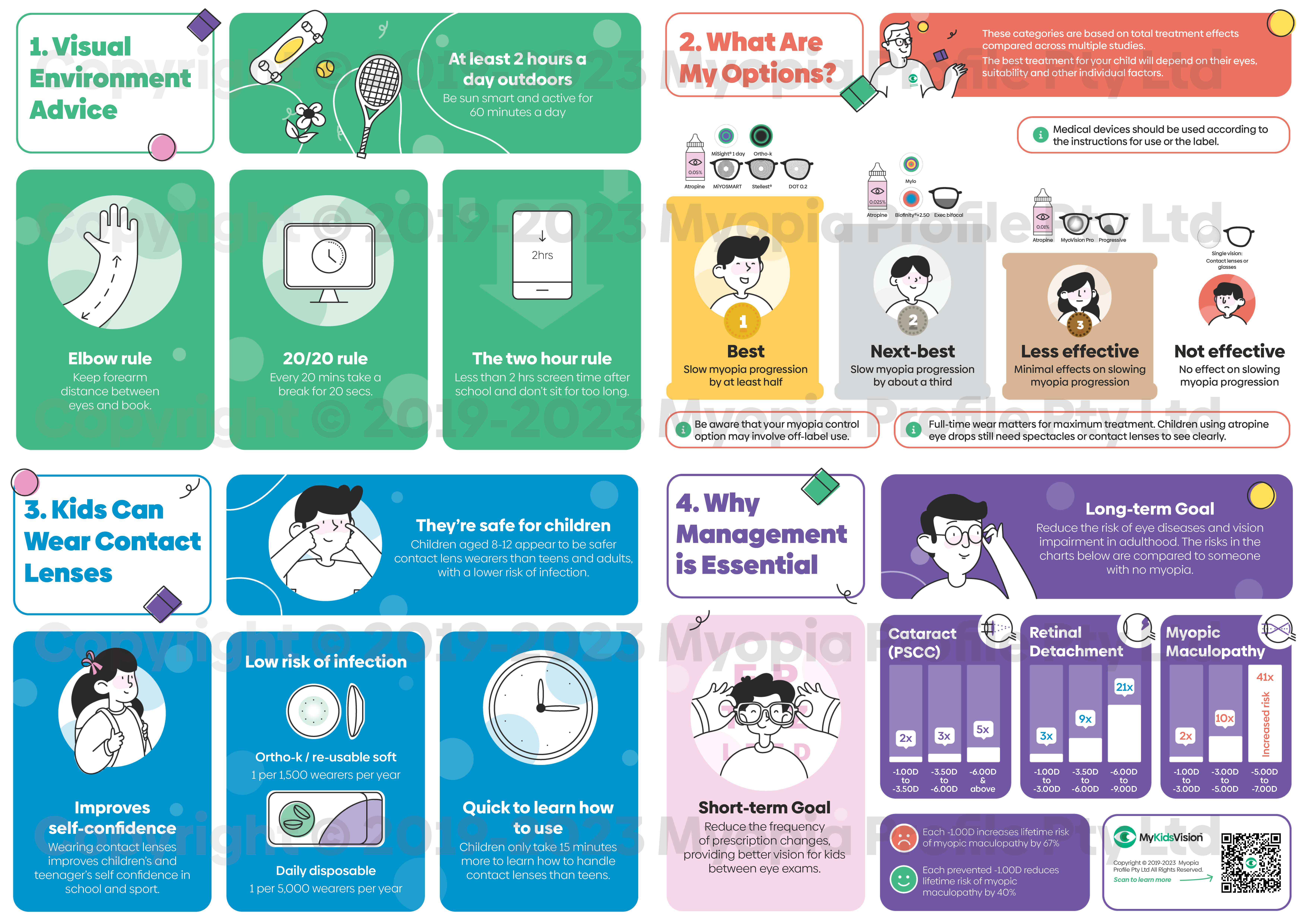 Use this side of the infographic to guide the discussion with patients and their parents or carers. Visual environment advice is an ideal place to start, and can answer key parent questions on outdoor time and screen use (panel 1). The exploration of myopia control treatment options (panel 2) based on categories is a simplified and evidence-based approach, which you can learn more about in our article Which myopia control treatment works best? If you are recommending a contact lens option, the next step is typically to reassure parents and patients about how successful and safe kids can be as contact lens wearers (panel 3). Finally, you can explain the short-term and long-term benefits of myopia management with panel 4.
Options for printing the infographics
These two four-panel infographics can be printed in large format as poster (ANSI-C or A2), or scaled down to US Letter or A4 to be used as a handheld infographic for in-room discussions and reference. The Infographics can also be printed and/or displayed on a screen as individual panels (US Letter and A4 sizes) to use each page on its own if you prefer. As above, there are four which are parent- and patient-facing (multi-coloured) and four which are your chairside reference (mostly blue coloured).
Here's how you could consider printing and displaying the Infographics for use in your practice.
Print the combined panels as large size (ANSI-C or A2) to use as a poster in your waiting room, dispensary or examination room

Print the combined panels as a double-sided handheld size (US Letter or A4) to use as a guided communication tool in the examination room. You can also choose to display the combined panels on your computer screen for the same use.

Print or display the individual panels on your computer screen to support clinical discussions. Each single panel of the multi-coloured parent and patient facing side includes a QR code linking to the specific article on MyKidsVision.org. The single panels for the mostly blue coloured side (your chairside reference) include a QR code linking to the practitioner information articles on MyopiaProfile.com.

Use the infographic to train your practice team, with reference to articles on MyKidsVision.org or MyopiaProfile.com, depending on what is most appropriate for the individual team member's level of understanding and qualification.
The Managing Myopia Guidelines Infographics are designed to be used by eye care professionals, in discussion with patients and their carers, and as a clinical reference. It will work best when a patients and their parents are sitting with the practitioner or trained practice team member, rather than being handed to a parent or patient to look over by themselves.
Research has shown that using pictures alongside written text and spoken information increases attention to and recall of health education information, compared to text alone. Pictures can also improve understanding of relationships between things or ideas.1 It's important to verbally guide your patients through the Infographics for the best outcomes.
The take-home brochure for parents
Once you have used the Infographics to explain myopia to patients and their parents or carers in your exam room, these messages can be further enhanced by providing the take-home, free-to-download Managing Myopia patient brochure. Designed to accompany the Managing Myopia Guidelines infographics, this tri-fold patient brochure includes the same imagery to provide a take home reminder of the message you have communicated through the infographic. It is also available in several language translations, for printing in US Letter or A4 sizes.
The brochure includes advice on healthy outdoor and close work time, risks and benefits of contact lens wear, the podium of myopia control options, and reminder on why myopia management is important. Included is a QR code that links to the MyKidsVision.org website for further information.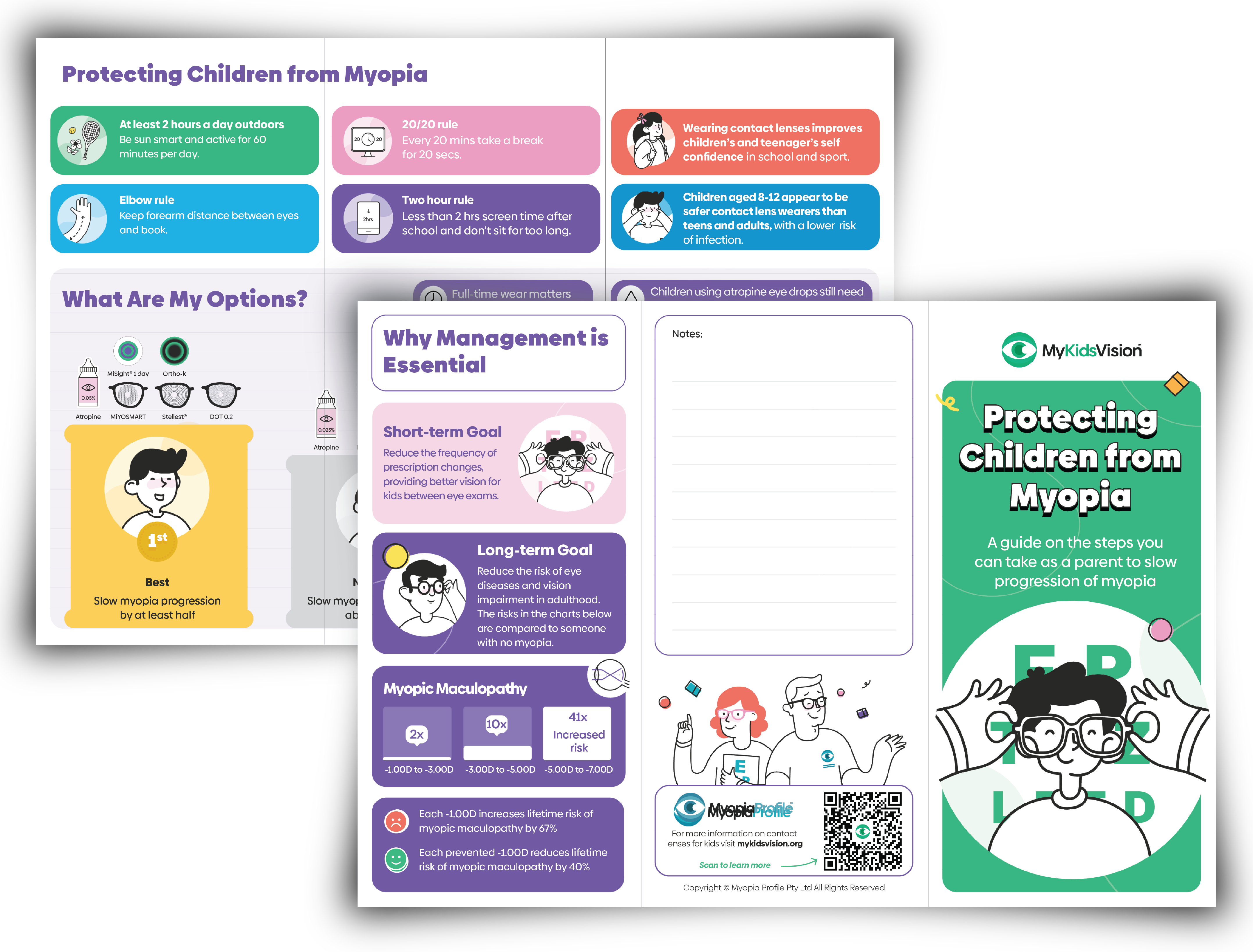 More resources for you on Myopia Profile
Myopia Profile is the world's leading and most popular platform for childhood myopia management because we provide you professional education, clinical resources to put that knowledge into practice, and combine this with patient and parent education and public awareness through the My Kids Vision website and social media vehicles. Our trusted, independent voice in the landscape is always scientifically based, with an eye to how the latest knowledge and innovations translate into patient care.
We have built numerous free-to-download resources to support clinical communication and patient management in myopia. Check out all of our Clinical Resources which, along with the Infographic and Brochure described above, include the:
My Kids Vision QR code sheet to use in connecting parents easily with the information they need most to learn about their child's myopia

Contact Lenses for Kids Infographic which which addresses questions that parents, patients and practice teams may have about contact lens wear in children (a collaboration with Johnson & Johnson Vision)

Informed Consent Template Form which is an MS Word template to be edited as you prefer, covering information on myopia, management and treatment types, risks, safety and benefits.
We have more under development, and if you'd like to contact us ith feedback or to make any suggestions about our current or future Clinical Resources, please email us at support@myopiaprofile.com.
Meet the Authors: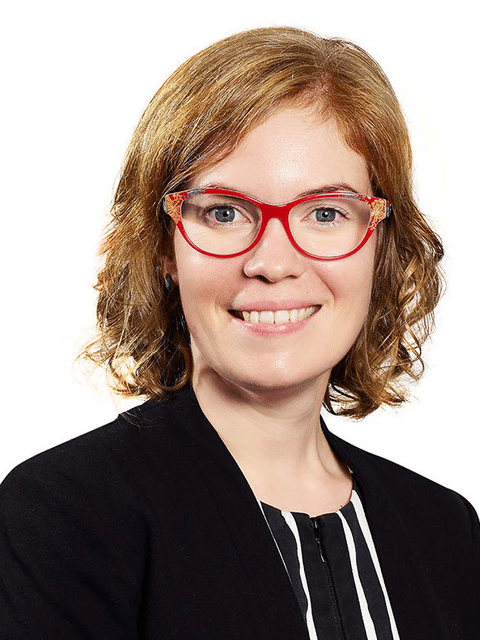 About Kate Gifford
Dr Kate Gifford is a clinical optometrist, researcher, peer educator and professional leader from Brisbane, Australia, and a co-founder of Myopia Profile.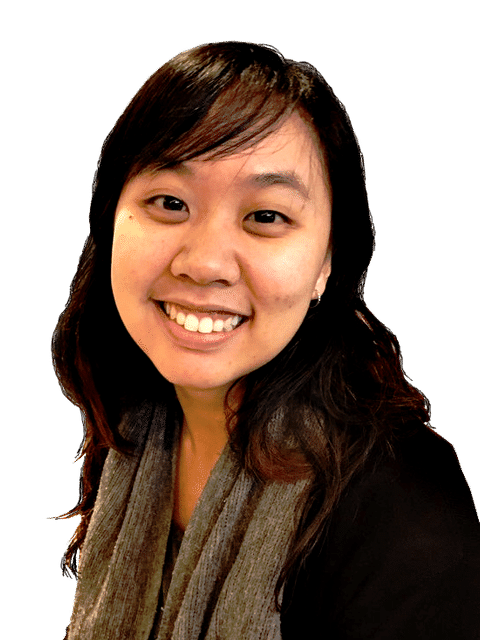 About Kimberley Ngu
Kimberley is a clinical optometrist from Perth, Australia, with experience in patient education programs, having practiced in both Australia and Singapore.
Read Kimberley's work in many of the case studies published on MyopiaProfile.com. Kimberley also manages our Myopia Profile and My Kids Vision Instagram and My Kids Vision Facebook platforms.
References
Houts PS, Doak CC, Doak LG, Loscalzo MJ. The role of pictures in improving health communication: A review of research on attention, comprehension, recall, and adherence. Patient Education and Counseling. 2006;61:173-90. (link)
Back to all articles
Enormous thanks to our visionary sponsors
Myopia Profile's growth into a world leading platform has been made possible through the support of our visionary sponsors, who share our mission to improve children's vision care worldwide. Click on their logos to learn about how these companies are innovating and developing resources with us to support you in managing your patients with myopia.