Our new Q&A format is designed to explore a particular clinical topic, intervention, product or research paper with an expert. The Topcon MYAH is a unique multifunctional instrument that offers various functionalities in one, to help you manage patients with myopia as well as dry eye. We catch up with Mario Teufl, Optometrist from Austria, who has used these features in his practice for a number of years.
Axial length is the main metric we seek to monitor in myopia management, as it is most closely linked with the risk of vision impairment associated with increasing myopia.1
Axial length measurement can be considered as an absolute measure, where a measure of over 26mm appears to be linked with escalating eye health risk,1 and can also be compared in children to their peers who are age and ethnicity matched. To learn more, read our Science Review A tale of two studies measuring change to axial length in myopia.
This 2022 ARVO research abstract also explored the influence of age and ethnicity on axial length, while any influence of region is yet to be determined.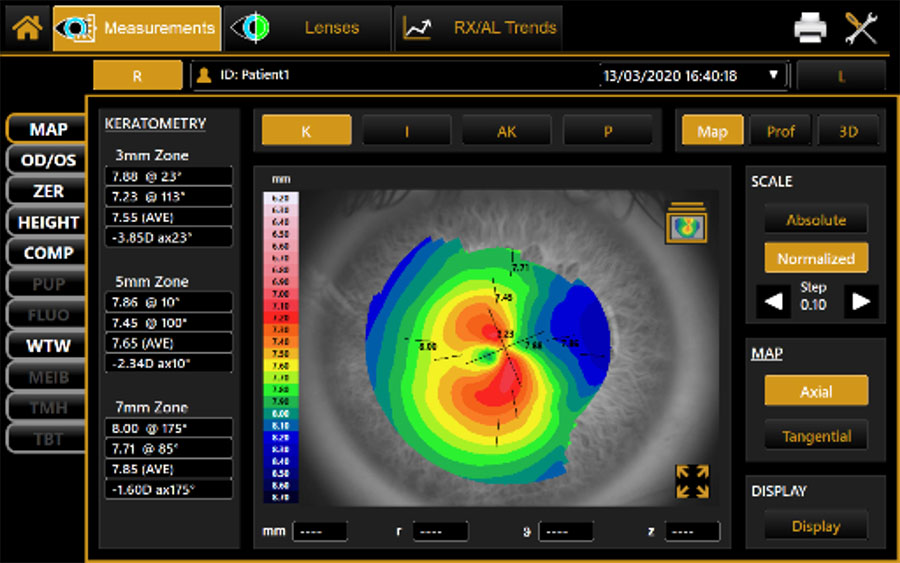 The images above are screenshots of the MYAH software provided to us by Mario. The first image shows corneal topography and the second, pupillometry outputs.
Mario mentions measuring topography routinely for his young myopic patients. Monitoring corneal curvature in myopia management can be useful to flag potential keratoconic patients early. As corneal astigmatism does not typically progress alongside spherical myopia progression,2 any increase in astigmatism that is corroborated by steepening topographical changes can be suspicious of ectasia and should be monitored closely and/or referred for intervention where required. The MYAH provides specific indices, calculated from topography, to support early identification and tracking of keratoconus risk.
For those who are orthokeratology (OK) lens fitters, the MYAH outputs to many of the main OK online calculators to support lens design. The pupillometry feature is an additional diagnostic output to consider in the emerging field of altering OK lens design in myopia control. While there are no clinical guidelines yet on how OK lens design should best relate to pupil size for myopia control fitting, one retrospective study has found a relationship between the topographical treatment zone diameter, pupil size and the myopia control effect. A randomized controlled trial altering OK lens back optic zone diameter - to modify the treatment zone diameter - has shown a promising additional myopia control effect in the initial phase of the study.3 Pupil size was measured, but any interaction between pupil size and myopia control was either not present or not reported.
The image above is a screenshot of the MYAH software provided to us by Mario. This shows an axial length growth chart with longitudinal patient data plotted along the chart in yellow. In this example, the percentile outcome was right at the top of the range but in more recent times appears to be tracking down over lower percentiles, likely due to myopia treatment.
The Erasmus research group in the Netherlands has described using axial length percentile charts to determine treatment success, which is observed when there is a reduction or tracking downwards of the percentiles.4
The MYAH incorporates the latest growth curve data from the Erasmus study group, going beyond their original growth curves published in 20185 to include an homogenous data set following the same children throughout.
One research abstract6  has applied this technique to the clinical trial data of the dual-focus concentric MiSight 1 day contact lens, and found that the control group followed their percentile line, while the treatment group showed a reduction of around 10 percentile points over the three years of the study. Read more in our Science Review of this research.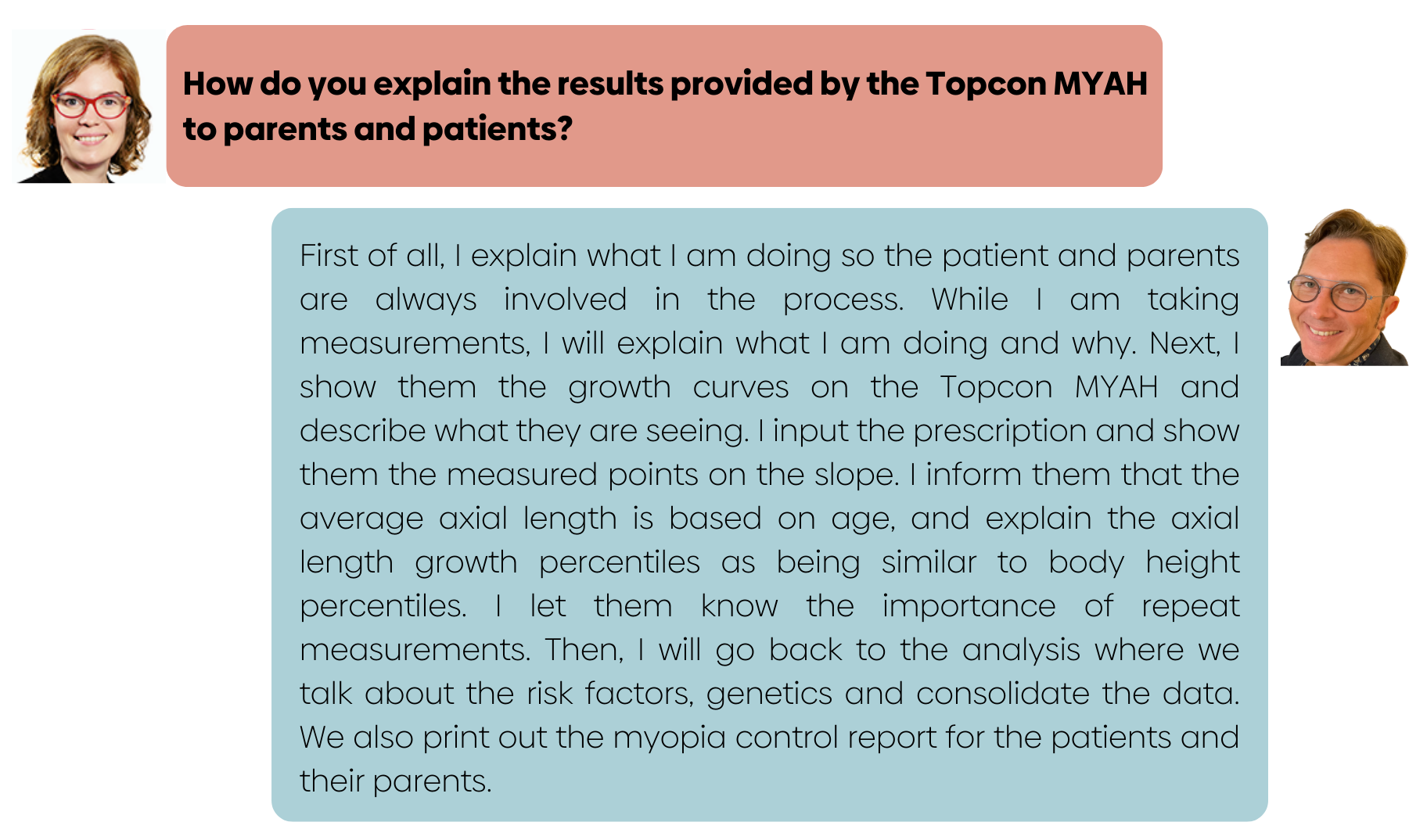 The images below are outputs of the MYAH report, provided to us by Mario.
This screenshot image shows a tear break-up time assessment on the MYAH. Dry eye can be multifactorial, and it is common in children and teenagers. To learn more on this, read our Science Summary on the relationship as found in recent research. For an overview of how these two fields of practice interact, read our clinical article Dry Eye in Myopia Management.
Mario is an Austrian Optometrist. He completed the Master of Science in Pennsylvania College of Optometry and Salus University in 2005. Mario is the local president of the board of optometry in Carinthia. He has his own practice and a contact lens studio since 1998. Besides carrying out comprehensive eye examinations, he also practices myopia management. He has 15 years of experience in fitting Orthokeratology lens (OK lens). A year ago, he was the coordinator in the DACH region for the European Academy and in charge of OK lens and Myopia Control.  He is never tired to share his passion about his job and to inspire fellow optometrists.
Topcon Healthcare Disclaimer: Not all products, services or offers are approved or offered in every market and products vary from one country to another. Contact your local distributor for country-specific information.
This educational content is brought to you thanks to an unrestricted educational grant from
Tideman JW, Snabel MC, Tedja MS, van Rijn GA, Wong KT, Kuijpers RW, Vingerling JR, Hofman A, Buitendijk GH, Keunen JE, Boon CJ, Geerards AJ, Luyten GP, Verhoeven VJ, Klaver CC. Association of Axial Length With Risk of Uncorrectable Visual Impairment for Europeans With Myopia. JAMA Ophthalmol. 2016 Dec 1;134(12):1355-1363. (link) [Link to Myopia Profile Science Review]
Mutti DO, Mitchell GL, Sinnott LT, et al. Corneal and crystalline lens dimensions before and after myopia onset. Optom Vis Sci. 2012;89(3):251-262. (link)
Guo B, Cheung SW, Kojima R, Cho P. One‐year results of the Variation of Orthokeratology Lens Treatment Zone (VOLTZ) Study: a prospective randomised clinical trial. Ophthalmic and Physiological Optics. 2021 Jul;41(4):702-14. (link)
Klaver C, Polling JR; Erasmus Myopia Research Group. Myopia management in the Netherlands. Ophthalmic Physiol Opt. 2020 Mar;40(2):230-240. (link)  [Link to Myopia Profile Science Summary]
Tideman JWL, Polling JR, Vingerling JR, Jaddoe VWV, Williams C, Guggenheim JA, Klaver CCW. Axial length growth and the risk of developing myopia in European children. Acta Ophthalmol. 2018 May;96(3):301-309. (link) [Link to Myopia Profile Science Review]
Flitcroft DI, Arumugam B, Bradley A, Chamberlain P. Centile-based analysis of refractive development in the MiSight 1 day Myopia Control trial. ARVO June 2020 Abstracts (2020). (link)  [Link to Myopia Profile Science Review]